American Freedom LTD's Hemp Hydro tincture is a fully water-soluble, nanoemulsified formula that offers superior bioavailability in a multi-use tincture form. Add to water, beverages, or food products as desired.
Improves sleep quality
Reduces aches and soreness
0.0% THC
Comes in a 1 oz (30 ml) bottle
Description
If you prefer liquids to capsules, our Hydro is for you! This product features a fully water-soluble formula that employs the same nano-sized microemulsion  manufacturing process that you'll find in our soft gels.  Enjoy the same superior bioavailability in a multi-use tincture form.
Inside each bottle, you'll find the highest quality hemp extract available. Beginning life as organically grown, non-GMO, Colorado-raised industrial hemp, our extracts are created using food-grade ethanol extraction or supercritical CO2 extraction methods in GMP compliant facilities. Then, through a proprietary chromatography process, the full spectrum extract is stripped of THC.

The result is a broad-spectrum hemp extract that includes all the naturally occurring cannabinoids, terpenes, and flavonoids found in the original hemp material without any detectable levels of THC - guaranteed!
You can rest assured that our hemp extracts contain everything you want and nothing you don't. Each batch of products is lab-tested to ensure that no heavy metals, solvents, microbes, or contaminants are present. Get ready to experience the purest, most bioavailable hemp oil on the planet.
Try this product risk-free with our 30-day return policy.
Experience the Water-Soluble Difference
Nano-sized microemulsion for superior effectiveness
Of the many features that set American Freedom' Hydro tincture apart, the proprietary nano-microemulsion manufacturing process is perhaps the most notable. The phytocannabinoid-rich hemp extract contained in each capsule undergoes a special process that breaks the oil into the smallest particulates possible. This process significantly increases absorption rates in the body when compared to standard oil-based products as well as other emulsified products on the market.
As shown in the diagram below, the competition's liposomal microemulsion process yields hemp oil droplets between 100 and 1000 nanometers (nm) in size. With our superior nanoemulsion, the droplet size is 10-100 nm, with an average drop size of 25 nm. This small droplet size allows for the largest accessible surface area of hemp oil droplets that maximizes the body's ability to synthesize and respond to any given dosage.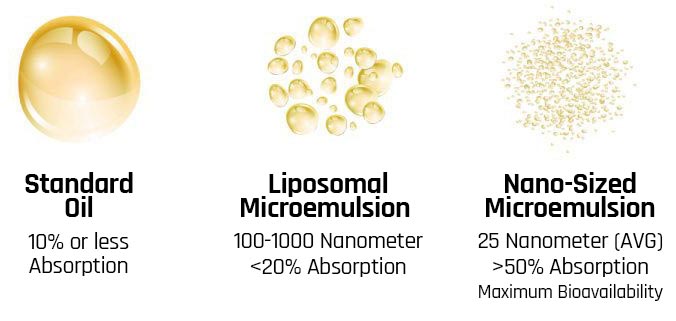 As with any product, it's not how much you use, but how much your body absorbs that matters. With standard oil-based products ingested orally, 10% or less of the hemp extract is absorbed by the body. Our nano-sized droplets address this problem directly, increasing absorption rates up to five times, resulting in more than 50% of the extract being absorbed by the body.
This means a lower dose is required to achieve greater potential health improvements overall. Our products are priced competitively, even against traditional standard oil products so you get the absolute best bang for your buck.
Usage Instructions
For best results, shake the tincture well prior to use. Recommended serving size is 1-2 droppers (1 ml – 8.33 mg/dose) full.
Use Hydro as an additive to water, beverages, or food products. Simply mix in your desired dose.
Use as a tincture.